Just in case anyone thought this might be a whodunnit concerning a pair of minimal trousers, let it be known that its current use is to describe an apparently strange feature of the Crossrail timetable. One of the features of current and May 2023 timetables is a 2tph (trains per hour) service that runs in the peak-period only and in the direction of the peak only, between Gidea Park and Liverpool Street National Rail station platform 17. In the May 2023 Elizabeth line timetable it consists of five services in the morning and five services in the evening.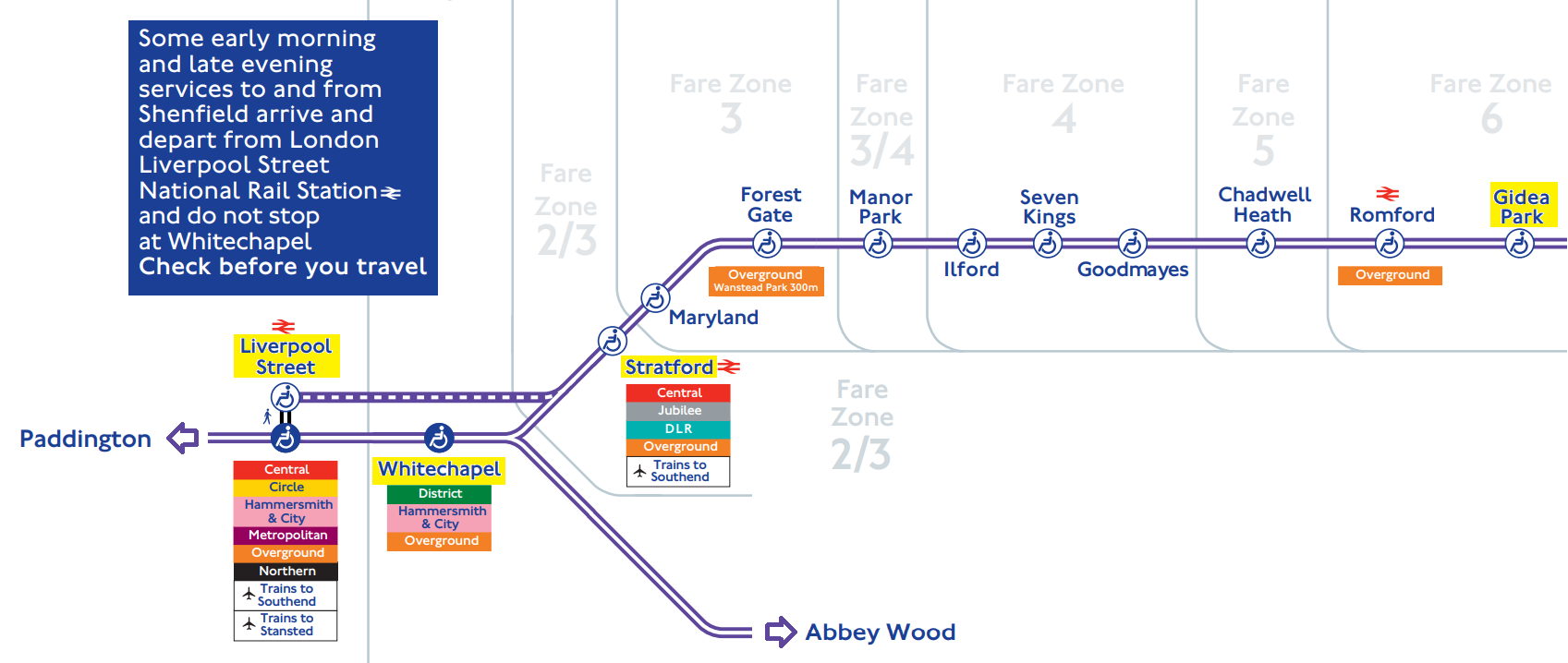 A strange thing to do?
The obvious first question is why run the service at all? It would appear to make minimal difference to the service provided on the Elizabeth line and added a totally unnecessary complexity to the operation of the line. It would also appear to be hardly worth running for the sake of 2tph. If you are going to implement such a service then surely it makes more sense to run it more frequently.
One also might question what this odd-ball service is supposed to achieve. After all, trains from Liverpool Street National Rail station to Stratford aren't exactly infrequent and there are also the alternatives of the Elizabeth line or even the much-slower Central line. At first sight the trains would almost appear to be a candidate for YouTubers to video a 'Ghost trains on Crossrail' feature.
The apparent absurdity of the Gidea Park shorts appears even worse when one examines the Elizabeth line timetable in detail. To fit these two trains per hour in, significant delays have to be introduced to other trains to or from Shenfield in order for timings to even out at Whitechapel. This evenness is required so that Shenfield branch trains can dovetail with the 12tph Elizabeth line service to Abbey Wood.

According to the public timetable, one Gidea Park train from Liverpool Street National Rail station in the evening peak means the subsequent Elizabeth line train from Paddington has to have its Whitechapel-Stratford running time extended by three minutes in order to follow the Gidea Park train four minutes later. The following train has its running time extended by two minutes and the one after that by one minute in order to maintain a four-minute interval at Stratford. But then the next two trains each arrive five minutes after the previous one. Insertion of other trains leads to similar but different adjustments.
One could ask if this is what passengers really want? After all, it has been abundantly clear how much passengers dislike the temporary extra few minutes that most trains approaching Paddington from the west have had added to their running time. From May 2023 the extra minutes added when approaching Paddington will largely disappear but between Whitechapel and Stratford these extra minutes will remain.
Killing one argument
It has been argued by some that these trains are needed to retain route knowledge into Liverpool Street National Rail station case of disruption. This does not make any sense.
First and foremost, a few early morning and late evening trains already use Liverpool Street National Rail station so that a service can be provided at times when the central tunnels are closed overnight for engineering work. This particularly applies on Sunday mornings.
Secondly, a 'hot spare' is kept at Liverpool Street so some route knowledge would be maintained even without early morning and late evening services serving Liverpool Street National Rail station.
Finally, if trains are needed to be run to keep up route-knowledge you don't do this by running extra trains in the peak that don't go where they need to go. This increases your rolling stock requirement whereas keeping up route knowledge off-peak can be achieved without either significant capital expenditure or leasing costs.
Perpetuating the situation
One might have thought that with just two Gidea Park short services in each peak in the current November 2022 timetable, they might disappear with the full May 2023 24tph peak timetable to be replaced by an extra two through trains to Paddington. Unfortunately, the May 2023 timetable does not offer any improved frequency on through trains in the height of the peak period. So, to provide the same 'peak of the peak' frequency as the current November 2022 timetable, the Gidea Park shorts need to be retained.
Remember that the November 2022 timetable was not a proper 22tph timetable. It was a 20tph timetable with two extra services squeezed in ('pushed through') between Paddington and Shenfield in the peak hour in the peak direction. So, in the peak direction, you had 10tph + 2 push throughs + 2 Gidea Park shorts in the November 2022 timetable and 12tph + 2tph Gidea Park shorts in the May 2023 timetable. In the contra-peak direction there were 10tph to and from Shenfield in the November 2022 timetable which will increase to 12tph in May 2023.
This means that at the 'peak of the peak' there is no improvement in services on the Shenfield branch in the forthcoming timetable. There is also no reason to suspect that there will be any increase in services during the peaks for the next few years.
So why do it?
To understand why we have Gidea Park shorts you need to understand two things that can easily be ascertained by looking at what is really happening.
The first is that, contrary to what you might expect, evening Gidea Park shorts leave platform 17 from Liverpool Street in the evening peak fairly well loaded. This is probably best described by saying you can get a seat but you might have to look for a while before you find one. Furthermore, people don't tend to get off at Stratford but instead continue their journey on the Elizabeth line. Presumably the situation is reversed in the morning with arrivals at Liverpool Street platform 17 in the morning.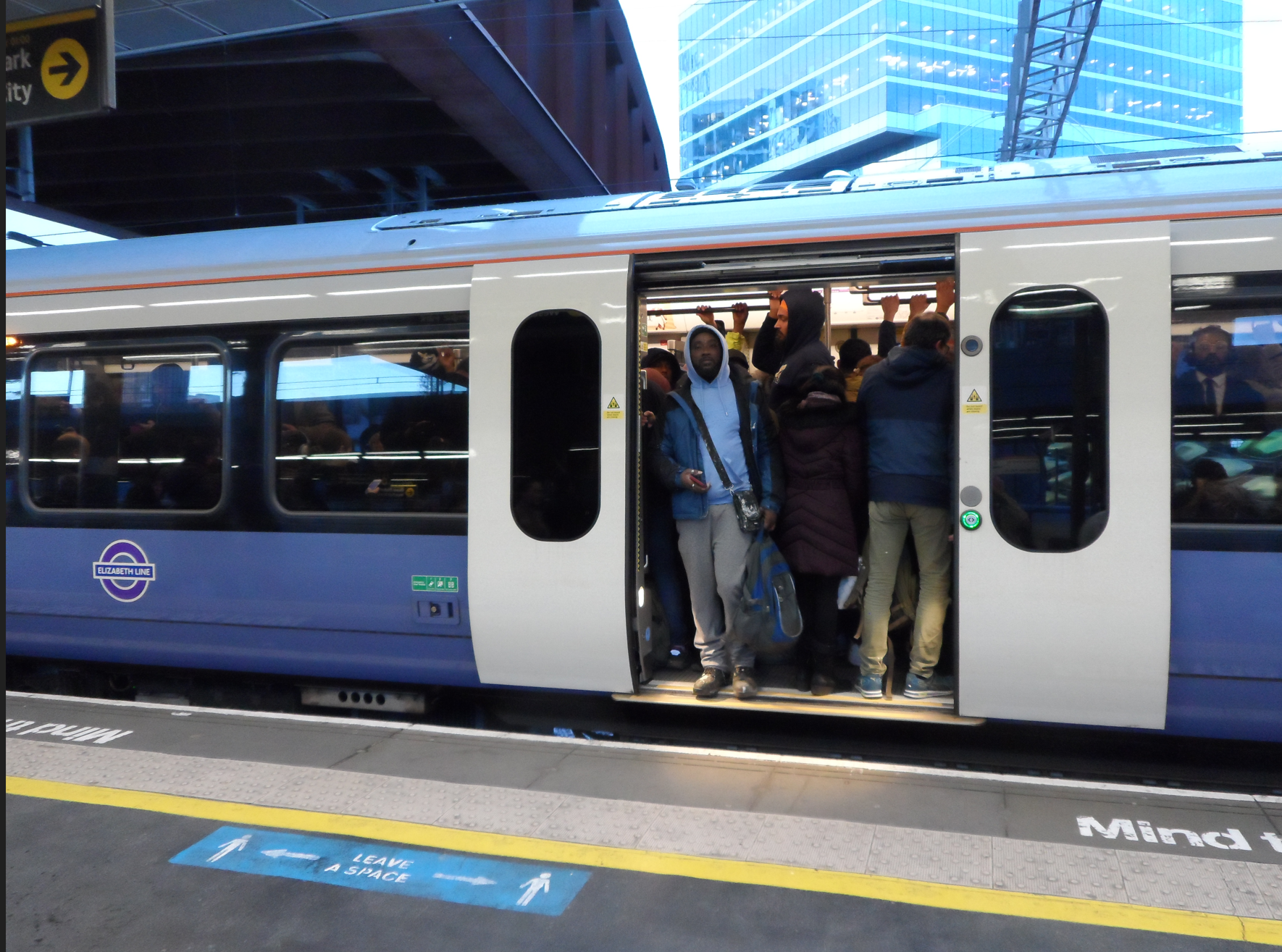 The second is that at the height of the evening peak, Elizabeth line trains leave Stratford with passengers squeezed together in the vestibule areas and some intending passengers are left standing on the platform. This is because of people transferring from the Central line utilising the cross-platform interchange there. This might seem surprising given that the Elizabeth line largely replicates the Central line in central London but there is also cross-platform interchange with the District line and Hammersmith & City line at Mile End so many District line passengers and some Hammersmith & City line passengers may well travel the one stop on the Central line from Mile End to Stratford.
Does the problem of overcrowding at Stratford really need fixing?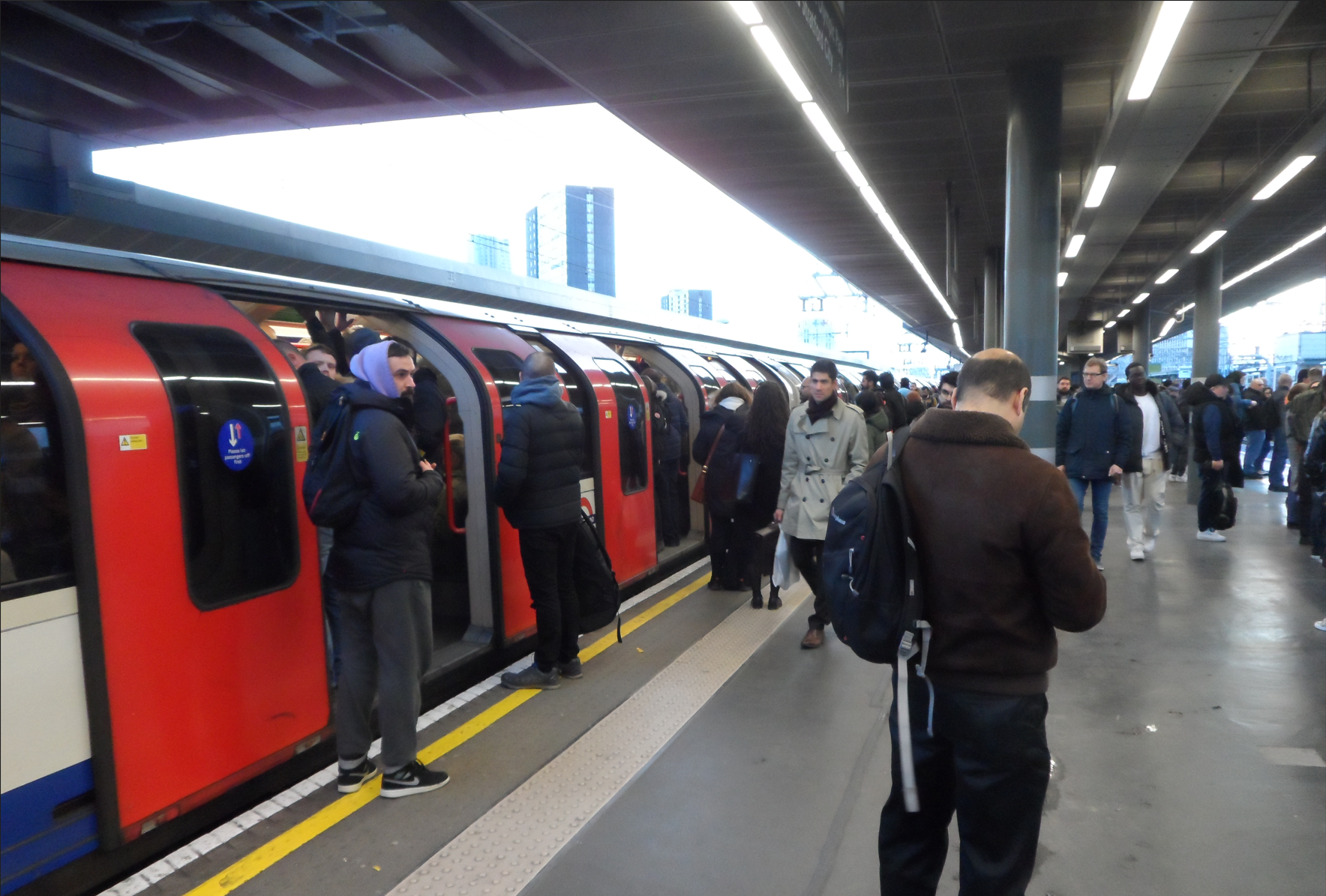 It seems obvious that we have a situation where something ought to be done. However, it could be argued that the concern is overblown. Anecdotal impressions are not the same as reliable data. It is probable that this is only really an issue on Tuesdays, Wednesdays, and Thursdays due to the tendency of commuters to work from home for some of the week.
It could also be argued that the worst that happens is passengers can't catch the first Elizabeth line train home at Stratford. The problem disappears every half-hour as a Gidea Park train starting from Liverpool Street mops up all the waiting passengers and then the cycle repeats itself.
It needs to be borne in mind that by Ilford, four stops further down the line, a large number of passengers will have already left the train so the extremely cramped travelling conditions will only apply for around ten minutes.
How did we get to this?
There are really two causes of this situation. The first happened before World War 2 and the second was a consequence of Crossrail planning.
Some of the problem stems from having a cross-platform interchange at Stratford between what were originally the Shenfield Electrics and the Central line. This cross-platform interchange was a crucial feature of various transport improvements planned for East London. It was all part of a grand scheme often referred to as the 1935-40 New Works Programme. The scheme is worthy of an article all of its own as there is very little information available on the scheme as a whole, even though two critical parts – the Central line extension eastwards and the electrification of the line from Liverpool Street to Shenfield – have been extensively documented.

The planned Stratford cross-platform interchange between an Underground line and a main line railway was, and still is, almost unknown with Queen's Park and Barking being the only other examples. At the time the main-line electric suburban trains were eight carriages at most and it was expected that seats would be provided for most passengers. In other words, Stratford's interchange platforms weren't designed for use by 200m long full-size trains configured to carry significant numbers of standing passengers. An Elizabeth line train can carry around 1500 passengers but a Central line train is intended for only 930 passengers.
The other problem was that Crossrail, as originally proposed, didn't have a branch to Abbey Wood. All trains from Central London would normally continue eastwards at least as far as Gidea Park. With at least 20tph planned on the busiest portions of the line, it was believed that sufficient capacity had been planned for. The proposed 20tph would be an increase of 2tph over the most frequent service that had been run on the Shenfield service before then and the trains would be longer and configured for higher capacity.
When the branch to Abbey Wood serving Canary Wharf was proposed the benefit-cost ratio of Crossrail improved dramatically and also gave the political impetus to proceed with the scheme. The potential disadvantage of the future service actually being worse on the Shenfield branch, frequency-wise, than the existing service was recognised. Very early on the Gidea Park shorts were a fundamental part of the revised Crossrail scheme that included a branch to serve Canary Wharf and a supplementary service of 6tph to and from Liverpool Street National Rail station was proposed. This would at least give no worse a service even if the trains were only formed of eight standard length carriages.
At some point prior to ordering the Class 345 Crossrail trains it was decided that there was only a need to run 4tph Gidea Park shorts. This was probably down to the fact the intended trains were longer and of a 'metro' style layout with provision for a large number of standing passengers, significantly increasing the capacity of each train.

The reason we only have 2tph Gidea Park shorts is not obvious. There certainly should not be any technical reason why 4tph could not be run but it was probably initially felt that 2tph would be adequate in a post-Covid world. The trouble is that as timetable changes involve Network Rail (even though no other services are affected) a short-term improvement is unlikely even if it was felt that 4tph should be run. It is worth noting that the new timetable is due to run until Saturday 9th December 2023 and not 'until further notice' which is the phrase generally applied when it is expected that the timetable will change sometime prior to the next national timetable change date.
Why not 3tph?
Another curiosity is that the Elizabeth line team have plumped for 2tph Gidea Park shorts and not 3tph. 3tph would allow a consistent four-minute interval from Gidea Park to Stratford in the morning and Stratford to Gidea Park in the evening. A simple explanation is that the team is wedded to the idea of Crossrail operating on a half-hour or quarter-hour cycle. It does seem an obvious improvement though, both in terms of achieving an evenly-spaced timetable and increasing capacity at Stratford by 7%. It also neatly fits in with the 30tph peak service on the Central line with alternate Central line trains going to Epping and Hainault.
A Possible Explanation
Perhaps the most convincing explanation given for not providing more Gidea Park shorts with the May 2023 timetable is that the Elizabeth line team are anxious not to change too much at once in order to maintain reliability which is critical to the Elizabeth line success.
The May 2023 timetable brings two significant changes on the western side of the capital. There will be an extra 2tph to Heathrow and the temporary padding in the timetable as trains approach Paddington from the west will be largely removed. It is understandable if the planners felt that increasing the frequency of the Gidea Park shorts was an unnecessary additional risk.
With the current service pattern established and people depending on it, it makes sense not to make too many significant changes in one go. Even if the planners were confident that a new timetable was sound, there are also related issues such as having sufficient staff to operate it and having sufficient availability of rolling stock.
What is concerning though is that current weekday demand generally across the rail network is considered to be no more than 80% at most of what it was pre-Covid. If this meant that the Elizabeth line could expect a significant further rise in demand before the next planned timetable change if a further drift back to the office continued, it is hard to see how the necessary further increase in capacity will be provided.
The Bigger Picture
Possibly the main thing to be considered when examining the issue of overcrowding at Stratford is not to look at the problem in isolation without considering if there are bigger issues elsewhere along the line to be addressed. There are only 70 Class 345 Crossrail trains and an objective of the December 2023 timetable should be to use these to their best effect, whether it is as a hot standby, better resilience or to improve the service where that can be achieved.
We are not yet into the 'final' timetable but already there are anecdotal comments about the mix of airport passengers and inner west London passengers causing a problem of apparent overcrowding as well as reports of the Abbey Wood branch being heavily used. Clearly we need to wait and see what the 'final' timetable will bring but, in the case of overcrowding at Stratford, it can only get worse.
If one thing is already apparent it is that May 2023 will not be the end of Crossrail timetable development, but only the end of the initial entry-into-service phase of the Crossrail service pattern. Quite how rapidly and how extensively the next phase develops remains to be seen.

Thanks to Matt for his proof-reading which has improved the text considerably and to ngh for recent information on the subject matter.