In his 2021 London Mayoral Election Manifesto, Sadiq Khan proposed giving names (and potentially their own colours) to London Overground lines to give them a unique identity.
"TfL's London Overground network has grown considerably over recent years, and to reflect this I'll launch a programme to name individual routes, giving each its own identity."

Sadiq Khan
So confusing are the Overground lines, all of the same orange on all TfL maps, that passengers often call it orange spaghetti. The Evening Standard quoting Khan as stating at the time that the name proposals for the Overground lines will be:
"rigorously assessed to ensure they only serve to enhance the passenger experience… based on individuals, places or local landmarks who have made noteworthy, but potentially under-recognised, contributions to London life.

"Naming the lines will not only help educate visitors about what our amazing city and incredible history but will also make it easier for people who live, work or visit London to more easily navigate the city."

sadiq khan
The TfL 2023-24 Budget was released 22 March 2023, and included the understated and easy to miss text "£4m LO renaming" on a chart that this project is going forward. This budget is notable for TfL's optimism around further recovery in passenger numbers.
Before anyone gets too excited, the header image is from a Geoff Marshall video, having the New Johnston font look and graphic feel of TfL, TfL's 2015 Tube Map mockup, and is not official. More about that later.
Public transport maps are critical for navigating systems, especially complex networks such as London's numerous rail networks: Underground, Overground, Crossrail, Trams, (and Thameslink). The more complex the network, the more crucial the need for clarity.
On the surface, it appears that giving names to the individual Overground lines would be quite straightforward. Just pick some line names and colours, add them into the Tube Map legend, change some station signs, and you're good to go. Passengers will be less confused, more will ride these lines, and everyone will be happy. But as with any transport change in London, what we see is only the tip of the iceberg, there are far more substantial issues under the surface that have to be dealt with.
The need for, and delivery of, clarity
The need for public transport information clarity was something that Harry Beck understood in the early 1930s when he created his now famous London Tube map. It has spawned many similar maps around the world, as well as a dedicated field of study and the practice of public transport map design.
The idea of much simpler Overground line names is nothing new, having been voiced whence the Overground was initially launched in 2007. Originally consisting of four lines – the North London, GOBLIN, West London, and Watford DC, and even with the addition of the East London Line in 2010, the single Overground identity still seemed manageable. However with the addition of the South London Line in 2012 and the three devolved Lea Valley branches to Overground in 2015, the plethora of lines and terminals tipped things over the edge. With the four southern branches of the East London Line, the need for clarity of line names was increasingly evident.
Overground line renaming has been in work since at least 2015
In fact, this image below shows that TfL has been working on this for a long time, starting well before the Mayor's 2021 campaign pledge. This image of a never released May 2015 Tube Map Poster was posted to the internet at that time, showing the six Overground lines with unique names and differently coloured hollow (railway track) lines: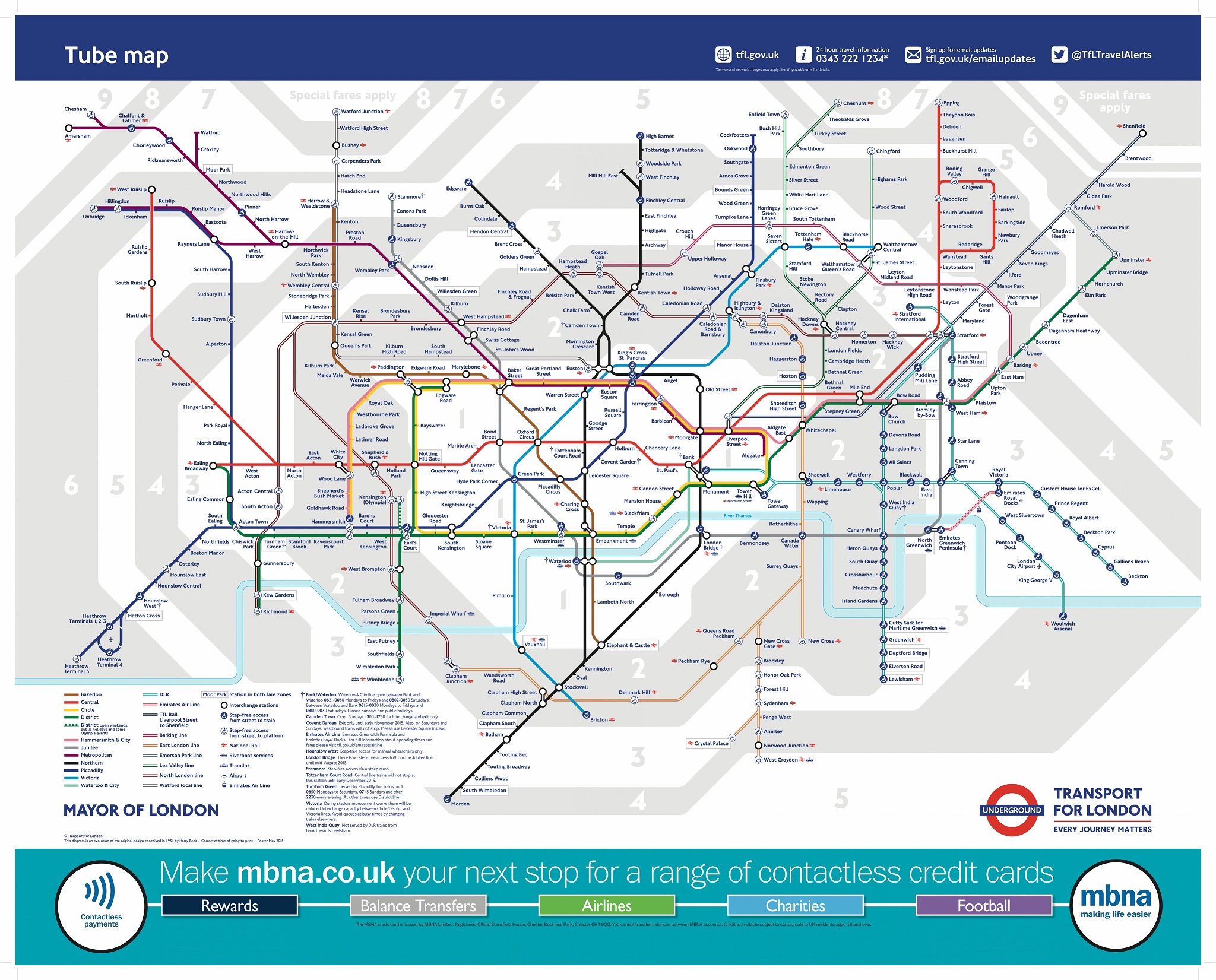 It is amazing how less cluttered the Map appears without the mass of orange spaghetti.
What TfL, and no-one else, calls its Overground lines
Although Overground line names are well-established and widely used, such as East London Line (which used to be part of London Underground before 2007), North London Line, GOBLIN, West London Line, Lea Valley lines, Watford DC, and Romford – Upminster Line, they are not officially named as such on TfL's Tube Maps, posters, Status Updates displays etc.
Instead, TfL refers to these six lines by their terminals:
Richmond and Clapham Junction to Stratford
Watford Junction to Euston
Gospel Oak to Barking
Highbury & Islington to New Cross, Clapham Junction, Crystal Palace and West Croydon
Liverpool Street to Enfield Town, Cheshunt (via Seven Sisters) and Chingford
Romford to Upminster

Most of these line names are much too long and unwieldy. Not only that, but these line names break with the naming tradition of almost every other Tube line name – only one of which was named after its (initial) terminals (the Baker Street and Waterloo Railway – Bakerloo).
Overground line name changes: Brakes applied
We do not currently know what stopped the release of the individual Overground names in 2015. Tfl is rightly concerned about its brand, and typically studies many angles of any proposed change. TfL knows well that there is plenty of opportunity to get the Overground line breakout wrong – recall the eruption of protest when TfL removed the Thames from the Tube Map in 2009. Clearly, given that more lines will likely be devolved to the Overground eventually (which we'll look at shortly), something needs to be done to quickly and easily identify the individual lines of the mode.
Nevertheless, we can look at the history of line name changes of Overground and it's originating railways to get a better idea of name history and what the passengers themselves call these lines.
Déjà vu all over again
To go back a few decades, around 1988 the then recently-formed Network SouthEast (NSE) started rebranding some of its lines with new names, to make the network easier to remember and use. The idea was to make thinking of and describing use of the lines as easy as 'Take the X to N station and change to the Y', as a sort of 'country' version of London Underground lines, to increase ridership. Unfortunately, not many line names had been converted by the time privatisation was unleashed, but many of the unimplemented NSE names became the names of the let franchises.
One of the NSE services that was renamed was the Watford DC line, becoming the Harlequin line. The name was formed from a portmanteau of stations HARLEsden and QUEENs Park, and was the winner of a local schoolchildren competition.
What's in a name?
Talking about names, TfL's Editorial Style Guide refers to the Overground as London Overground – as if there is a Midlands Overground or some other similarly named system in the country. The Underground is well understood in the UK as London's system. By the same token, passengers call the London's Overground the Overground. No distinction by city is necessary – unless comparing it to other cities, when one would say London Underground, one would also then say London Overground.
Fortunately, there are historical and/or popular names that could be officially adopted for the individual Overground lines:
North London line
Historical name – North London line, having been built as the North London Railway in 1853.
Notably, the London & North Western Railway later operated an Outer Circle service along the North London Railway and West London Railway, thence along the District Railway, between 1872 and 1908 (although not a complete circumnavigation).
The problem with the 'North London line' name is that, although it is close to the historical name of the original railway, it is too similar to 'Northern line' (which itself has two branches).
Furthermore, should DfT actually get around to transferring the Northern City Line to TfL, there would be all too many 'North' lines, and all in the same quadrant of the map.
In addition, the North London line has its two western terminals south of the Thames.
Some have suggested the Regent, or Regency, line, as much of this railway runs parallel to Regent's Canal. But do we really need yet another TfL line linked to royalty?
Others have suggested Olympic line, as it connects Olympic Park next to Stratford to Kensington (Olympia), as well as the West London line branch to Clapham Junction passing close to the White City site of the 1908 Summer Olympics and the Shepherd's Bush Overground station.
Nonetheless, a better representation of the geographical locations of this line and its branches, whilst keeping the link to their historical names, is:
Colloquial name – North London line
Potential name – North & West London line
Watford DC
Historical name – The LNWR built this line originally and called it the Premier line. This line was then called the 'Harlequin Line' by North London Railways and Network SouthEast – the portmanteau of line stations Harlesden and Queen's Park – before being renamed by Silverlink Metro.
Colloquial name – Watford line
Likely name – Watford line
GOBLIN
Historical name – Tottenham and Hampstead Junction line (T&H), then Gospel Oak to Barking line (GOBLIN).
Colloquial name – GOBLIN has it all, history, evocative name.
Likely name – GOBLIN
East London line
This line now has four (southern) branches, so individual branch names would be helpful (in for a penny, in for a pound).
Historical name – The East London Railway, and later London Transport's East London line (ELL) only went as far south as New Cross and New Cross Gate. However, the Clapham Junction and Sydenham corridor Overground branches now extend south from the ELL and are shared with other operators' services. Passengers of those sections do not associate them as being ELL, but as part of a multi-operator service.
To better represent the geographical locations of these segments, however, as well as keeping the link to their historical names, it would be instructive to use the example of the North & West London line:
Despite being called the East London railway or line since it opened in 1869, Brunel line would be an historic alternate choice – Sir Marc Isambard Brunel invented the tunneling shield, then constructed the pioneering Thames Tunnel, through which the core East London line operates. And as for diversity, he was also French.
Colloquial name – East London line
Potential names – East & South London line, Brunel line
Lea Valley lines
This line has a trunk and three branches, to Enfield Town, Cheshunt, and Chingford.
Historical name – The Enfield and Chingford branches were previously known as the Jazz services before nationalisation.
Transport names – West Anglia Inners. These lines are also known by train drivers as the impressive triple portmanteau 'Chenford', from CHEshunt, ENField, and ChingFORD. However, another Lea Valley, non-Overground line has since been added: Stratford – Meridian Water (formerly Angel Road), operated by Greater Anglia.
Colloquial name – Lea Valley lines.
Likely names – Lea Valley lines. If the branches are split out, Forest Line would be good for the Chingford branch, given Chingford is in Waltham Forest and is at the edge of Epping Forest.
Romford – Upminster
Historical name – This shuttle has long been called the 'Push-and-Pull' by many using it.
Colloquial name – Rominster is the portmanteau used at LR Towers, and perhaps to a lesser extent in the community.
Likely name – As this shuttle's only intermediate station is Emerson Park, this makes the Emerson line a strong contender. Rominster is also in the running.
The following image is from TfL's Overground May 2015 Tube Map Poster mock-up above:
Comparing Overground names & line colours
| | | | |
| --- | --- | --- | --- |
| TfL Official Name | Generally Accepted Name | May 2015 Tube Map Mock-up Name & Colour | |
| Richmond and Clapham Junction to Stratford | North London | North London (Bakerloo line brown?) | |
| Watford Junction to Euston | Watford DC | Watford local (Northern line black?) | |
| Gospel Oak to Barking | GOBLIN | Barking (Hammersmith & City rose?) | |
| Highbury & Islington to New Cross, Clapham Junction, Crystal Palace, and West Croydon | East London | East London (Overground orange) | |
| Liverpool Street to Enfield Town, Cheshunt (via Seven Sisters) and Chingford | Lea Valley | Lea Valley (District line green?) | |
| Romford to Upminster | Romford – Upminster | Emerson Park (Jubilee line silver?) | |
Colours are approximate
How to deal with the branches?
Historically, London Transport had sometimes named individual branches of lines:
In 1970, the East London Railway section of the Metropolitan line was renamed the Metropolitan line – East London Section.
Around the same time, the Northern City line was known as the Northern line – Highbury Branch.
The Piccadilly line's Aldwych Branch.
The District line's Kensington (Olympia) Branch
The Overground branch name could follow the precedent of the first two instances immediately above, taking the name of the branch terminus station. This would enable identification of individual branch disruption or works thus:
North London line – Richmond branch
North London line – Clapham Junction branch
East London line – New Cross branch
East London line – West Croydon branch
East London line – Crystal Palace branch
East London line – Clapham Junction branch
Lea Valley line – Enfield Town branch
Lea Valley line – Cheshunt (via Seven Sisters) branch
Lea Valley line – Chingford branch
This provides the simple ability to identify of the core line, or just the branch, has a disruption. For instance, a closure on the Lea Valley line would mean the trunk and all branches, whereas a Lea Valley line – Chingford Branch closure would just be that branch.
What complicates the Lea Valley lines is that the line to Chingford uses different tracks from the Enfield Town and Cheshunt branches. This is most clearly shown on the Overground Network TfL map, as the Chingford branch trains don't stop at Cambridge Heath or London Fields (although all branches' trains do stop at Bethnal Green). Hence the Lea Valley lines' common section is only a short trunk.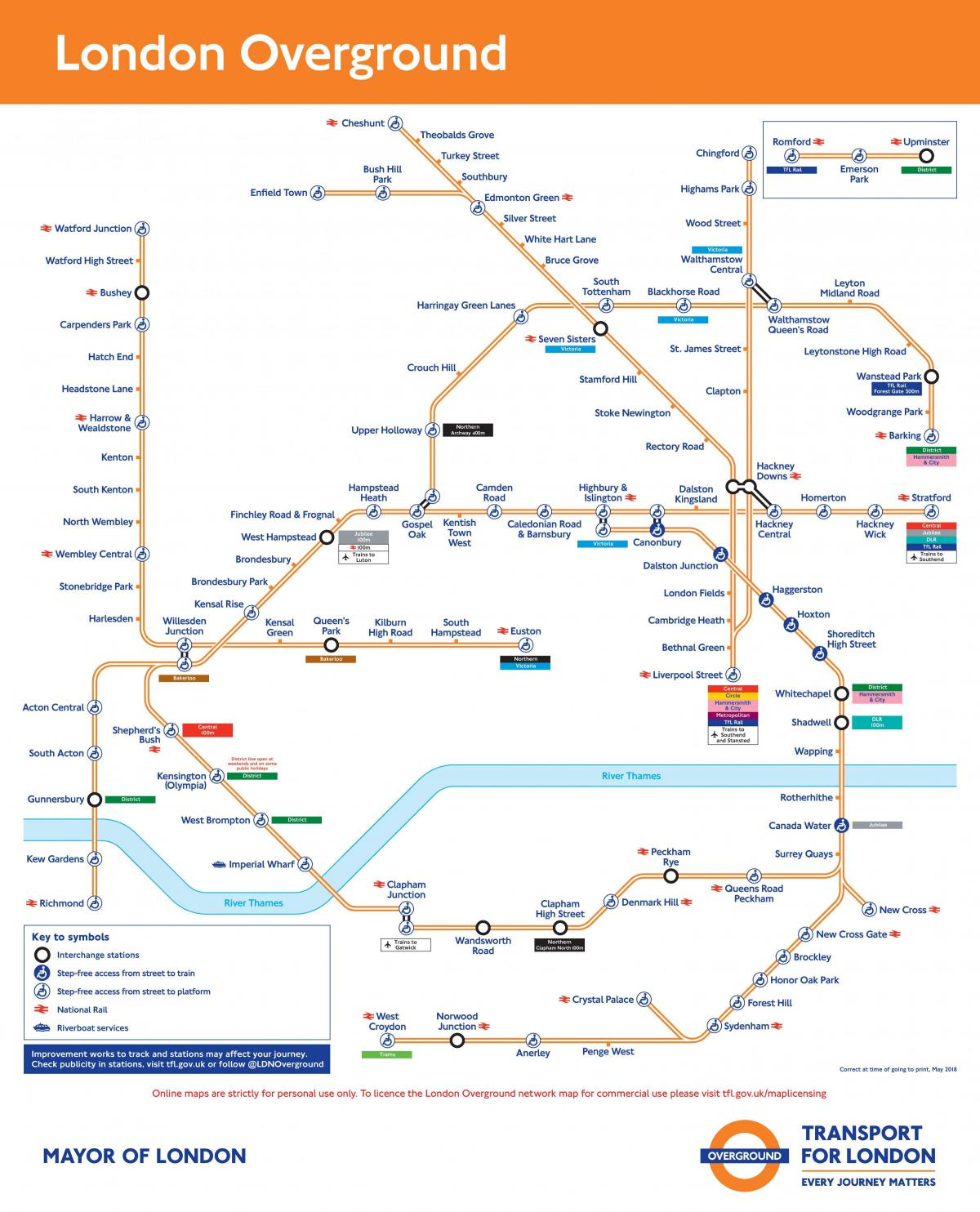 What will, and should, the line naming process be?
Whilst speculating on line names is an interesting exercise, it all comes down to how the Mayor wishes to proceed. In line with his promise to bring individuals, places or local landmarks who have made noteworthy contributions to London life, would the Mayor put the naming of Overground lines to a public consultation?
Other cities allow local communities input on the names of new stations – why not ask the public about the name of lines? This would be better than some politician picking a name to curry favour of a person or for political reasons. Obviously, a short list is preferable, to avoid the controversy of Orange McOverground flavoured lines. The Evening Standard had stated that "Borough councils, London Travelwatch and the Mayor's Commission for Diversity in the Public Realm, will be asked their views" on prospective Overground line names.
Naming lines is not something TfL treats lightly, as we investigated a few years back when Crossrail was ordained the Elizabeth line. However, one hopes that TfL will respect and use the names that the majority of passengers themselves use, instead of the name of some personage who is not nearly as well known or relevant.

Victoria car line diagram: Overground is an anonymous connection
Looking at the Victoria Line diagram map, the north Zone 3 stations such as Walthamstow Central, Blackhorse Road, and Seven Sisters connect with Overground services. However, to find out which of these Overground services are available at which station, passengers would need to look at the Tube Map.
Whenever there's an issue on this network, TfL lists the Overground status as a single entry. If there is a disruption, passengers must expand the TfL website or TfL Go app to see full details about which part of the Overground is disrupted. Providing unique identities to Overground services will make it easier for them to know which services have been disrupted. This is the crux of the naming issue.
Future devolution to Overground – Northern City Line?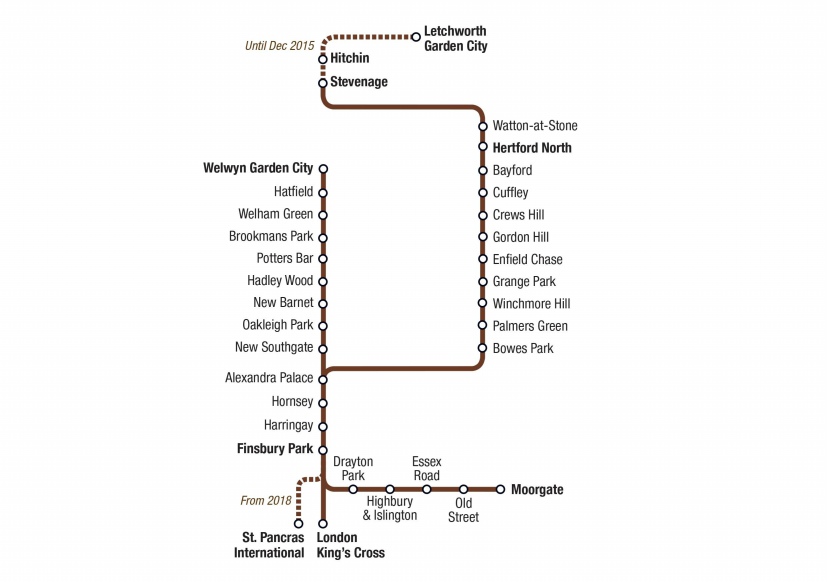 Any Overground line nomenclature will need to take into account potential additions to this network. At least one devolution is quite likely – LR had previously looked at the possibility of devolution of the Northern City Line back in 2013 in looking at the service patterns of The Hertford Loop and the Northern City line. In 2016 TfL proposed to transfer more London rail services to Overground. Then on 19 June 2020, in a letter sent by Minister Chris Heaton-Harris to London Deputy Mayor Heidi Alexander, DfT proposed the transfer of Great Northern services operating out of Moorgate station to the Overground. At that time, both sides expected the transfer to occur in September 2022. No such transfer happened.
There is form for this particular line's devolution, having previously belonged to London Underground prior to 1975 as the Northern City line. In August 1976, British Rail took over the line and extended services north.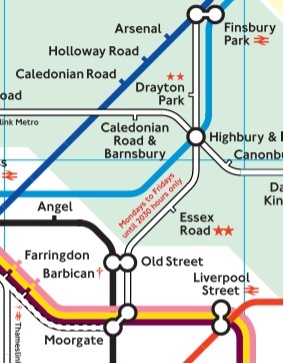 TfL's recent tumultuous funding struggles and the hit on Government coffers by the Covid pandemic have pushed aside non-urgent issues like rail devolution. Even in calmer periods, devolution has not always been smooth. With ridership patterns, and rail revenues, still somewhat in the post-pandemic flux, the government's enthusiasm for such projects is dampened.
Nonetheless, there are a number of factors regarding a potential Great Northern services devolution:
ECTS resignaling is ongoing and due to complete in 2025, so devolution after that is complete makes more sense.
2022 date was the original end of the GTR contract, but has been renewed until 1 April 2025.
The outer tentacles of the Great Northern routes are not currently in TfL fares/ticketing areas. But this will change with Project Oval, which will expand contactless payments to over 230 mainline rail stations outside London (and into TfL's payment system) by December 2024.
DfT have minimal issues with Govia Thameslink Railway (GTR), despite it operating Great Northern, Thameslink, and Southern franchises concessions.
Furthermore, this may also line up with the London Mayoral election in May 2024, should Sadiq Khan think of running again as Sadiq Khan has decided to stand again and has been selected as Labour's candidate for the next London Mayor election. He may leave devolution of Great Northern, and other lines, until after that election.
Whenever this devolution were to go ahead however, Overground name clarification would need to be investigated – 'Northern City line' may be too close to 'Northern line' and its already-confusing two central London branches.
History of proposed devolution of inner suburban lines to TfL
TfL has had three major attempts at trying to turn the commuter routes south of London into Overground lines to date:
1. London's Railways – The Case for a London Regional Rail Authority, TfL 2004.
This document looked at commuter routes all round London, but also proposed turning lines as long as London – Guildford into TfL routes. In return, the local authorities into which such lines would run would be offered two seats on a new London Regional Rail Authority.
Unfortunately, many county councillors did not want TfL encroaching on their turf despite:
Having a county councillor representative would give them a lot more democratic oversight than they were getting with the DfT awarding rail franchises, where the county had no direct influence at all.
TfL already running many London Buses routes into many of the surrounding counties.
There being little revenue incentive for South West Trains (SWT, as was) to improve its inner London services as the Travelcard capped fares income.
TfL likely to spend more on trains and station facilities that SWT ever would, to the benefit of county passengers.
As a result, there wasn't any great push to take this proposal forward.
2. a) Turning South London Orange, Centre for London Report, August 2016
This report proposed a more limited network of Overground services. Our own Jonathan Roberts was one of the authors.
2. b) Rail devolution business case narrative, TfL, October 2016
The Turning South London Orange report has the appearance of being the catalyst for TfL's own report Rail devolution business case narrative of October 2016. But in fact, Southeastern sent its own devolution proposal to DfT and TfL in April 2016. In turn, DfT in September 2016 requested that TfL provide business case details. TfL's subsequent October 2016 report noted:
"the recently devolved West Anglia services… has increased 27 per cent since devolution in May 2015 [in only 18 months]. TfL expects an increase of 14 per cent in southeast London. The additional revenue can itself be re-invested in service enhancements…

"The package has a quantified benefit cost ratio of 4.3:1, based on railway passenger benefits, which shows that this offers high value for money…

"TfL anticipate greater reliability (three percentage points on the public performance measure, five points on the 'right time' measure), reduced fares evasion (four percentage points), all-day staffing thus enabling turn-up-and-go mobility assistance (rather than booking 24 hours ahead), and integrated fares and information. [which would drive the expected 14 per cent growth on Southeastern inners]"
In this 2016 case study, TfL identified that the following suburban service groups would be suitable for devolution:
To/from Charing Cross, Cannon Street, and Victoria serving southeast London to Dartford, Gravesend, Hayes, Orpington, Bromley North, and Sevenoaks.
To/from London Bridge and Victoria serving south central London to Sutton, Epsom Downs, Epsom, and West Croydon, plus Southern services along the West London line.
To/from Waterloo serving southwest London to Chessington South, Shepperton, Hampton Court, Dorking, and Kingston and Hounslow loop services.
To/from Moorgate to Welwyn Garden City and Stevenage via Hertford North.
3. Strategic Case for Metroisation in south and south east London, TfL March 2019.
Being a Strategic Case, and not a Business Case, this Overground devolution document of south and southeast London commuter lines has less detail and only general cost estimates, and no cost-benefit analysis. Nevertheless, this report does include the following map: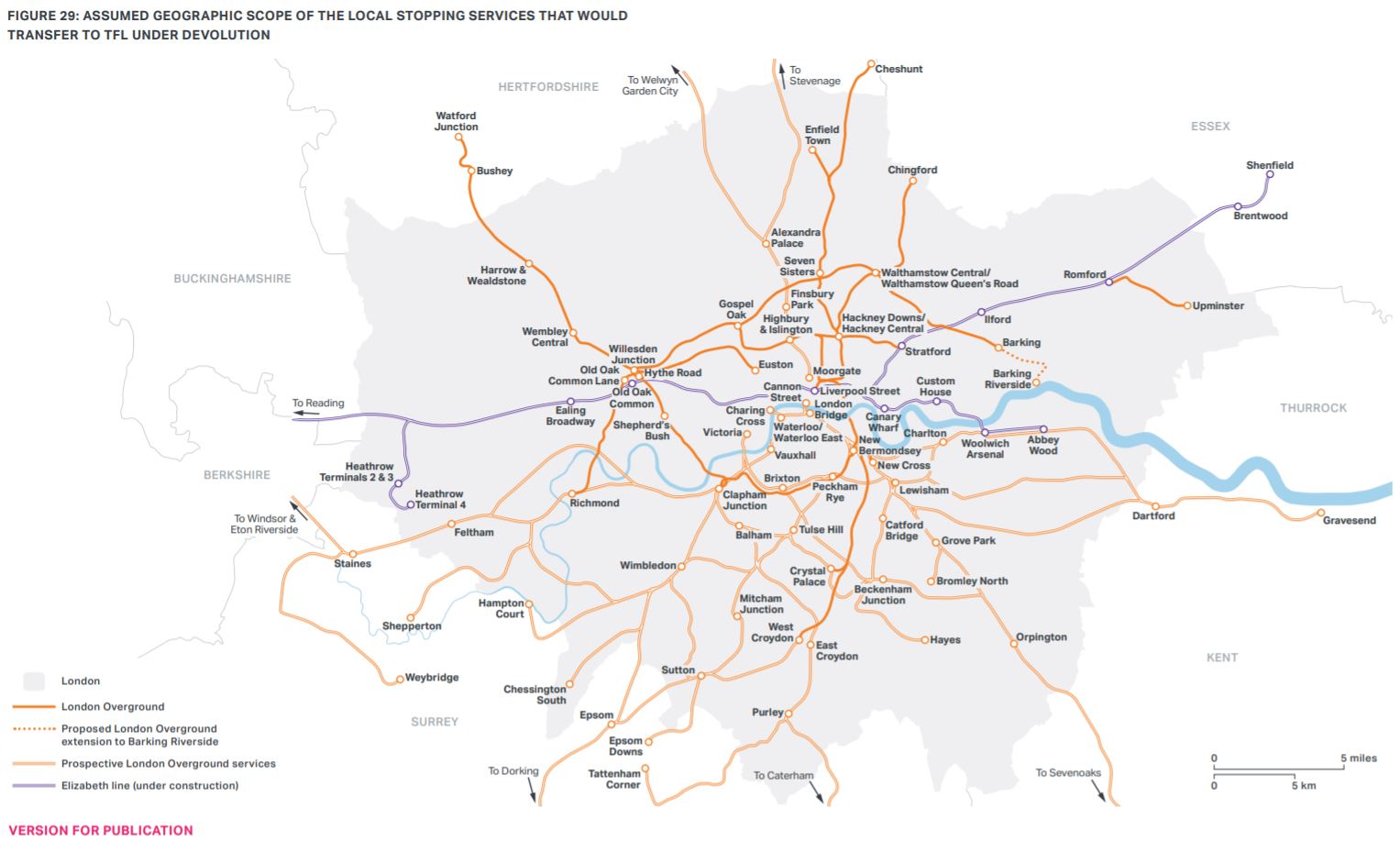 London Overground network could get a lot larger
Should metroisation of London inner commuter lines go ahead at some point, there would be a cornucopia of lines converted to Overground standard. Any naming and map colour schema that TfL develops for the existing six Overground lines will also have to take into account further potential Overground lines.
One important limiting factor is that there is relatively small number of colours actually available – this is a consequence of the technical limitations in colouring enamelled system maps, a function of the suspension of coloured particles in the enamel solution. Nonetheless, when the Waterloo & City was transferred from British Rail in 1994, the Underground were offered about four colours to represent the new line on signage and on the Tube Map:
the chosen lime green (eau-de-nil)
light green
light red
tawny/light brown
different darker grey
Unlike blue and red, green has no widely understood boundaries between its many shades – grass green, light green, eau-de-nil, lime, acid, hunter green etc.
What might be a better solution for the devolved metroisation lines is a different classification, like TfL Rail, but perhaps as TfL Suburban Rail for the radial lines (the Lea Valley lines could be grouped with them).
Potential new Overground line – West London Orbital (WLO)
This is a proposed Overground line in West London to improve public transport by completing a missing orbital link in North and West London. TfL and an alliance of seven west London boroughs – Barnet, Brent, Ealing, Hammersmith and Fulham, Harrow, Hillingdon, and Hounslow. Together they developed the strategic case for the proposed West London Orbital Overground.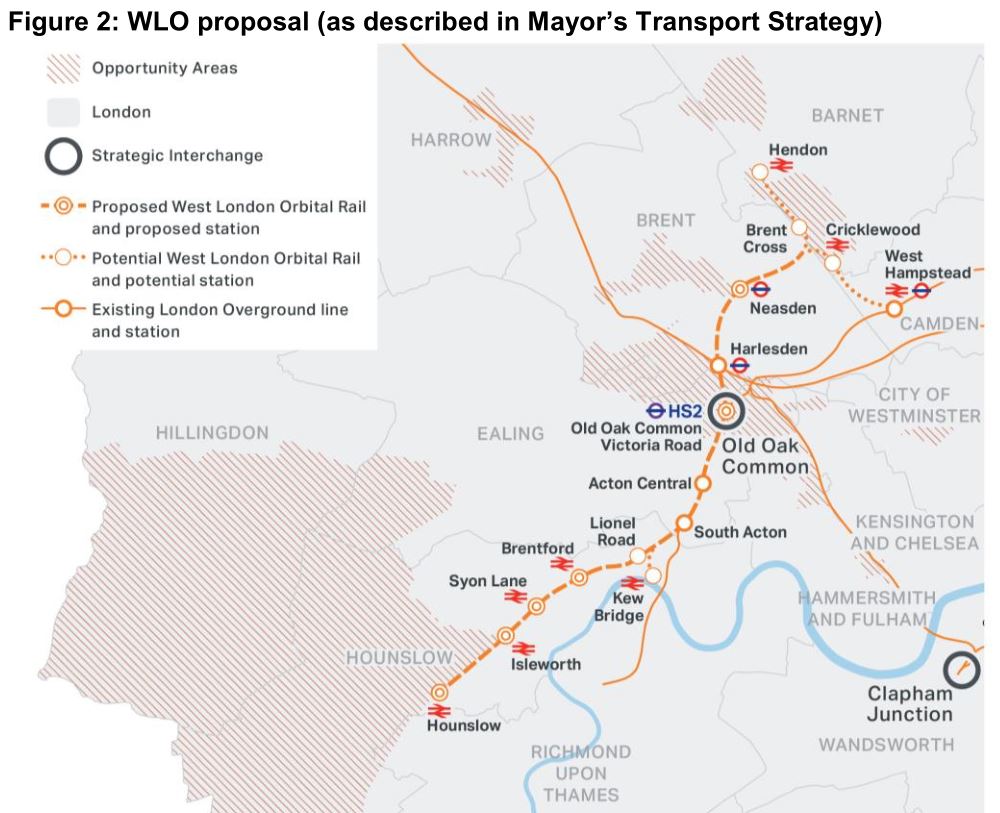 The line would upgrade the existing Dudding Hill Line between Acton and Cricklewood, which is currently lightly used, and only by freight. The route would connect ten new and existing Underground, Overground, Elizabeth, and National Rail lines, as well as the future High Speed 2 interchange, and build four new stations, use 17 existing stations, and carry up to an estimated 11.9 million passengers a year.
As the Overground has spurred substantial economic growth near most of its stations and nearby town centres, the WLO is also predicted to act as a catalyst for economic development. Released in October 2021, this proposal is in concept design phase.
The problem with using people's names
Renaming for un- or under-heralded individuals who have made a contribution to society or their community is a noble goal. However, it might be difficult to find someone sufficiently well known who lived or worked near each line to be a generally accepted renaming. Furthermore, naming lines after long forgotten people really doesn't help many current residents nor new comers to London. Renaming long standing rail line services would cause passengers much confusion and extra work for TfL.
As a hypothetical example, Southeast metro services via Greenwich could be renamed the 'Angerstein line', after the former local MP for the Greenwich Peninsula and early social reformer from Russia (ignoring the rail freight line of that name still operating there). Whilst this potentially meets some of Sadiq Khan's naming criteria, does it "make it easier for people who live, work or visit London to more easily navigate the city"?
The current colloquial line names (listed above) are well known and usually geographically named, as well as being historically well used, so actually meet the Mayor's criteria better than an arbitrary renaming for a person. Otherwise, such renaming will serve to confuse passengers, which would really work against the stated goal of making the Overground network easier to understand. If the new names don't make sense to passengers, they will continue to use the old names. It is notable that the Harlequin line rename never caught on, and riders still call it the Watford line.
Good line names are simple, unambiguous, and reflect common public usage.
Insufficient Status update displays at stations
There are 16 unique line colours on the current Tube Map (including Thameslink and Trams), which are replicated on the station Status update displays, as well as online and on the TfL Go app. Given that the number of colours is restricted by what can be applied to enamel signage, it is worth looking at other means of uniquely identifying new lines.
The Tube Map has long used hollow lines (ie DLR, Overground, Trams) to indicate different modes. However as the Status update displays are currently used, these three modes appear as solid colours. Hence duplicating existing Underground colours for new hollow lines would not work, unless the Status update displays are redesigned. App displays on the much more limited screens of mobile phones also need to be considered. TfL could identify routes with abbreviations of Overground line names, which would work better for mobile phones and some Status update displays. For example, ELL, NLL, LV (Lea Valley), Wat, Rom, & GOBLIN, were these names to be chosen officially.
Another impact of Overground splitting into individual line identities is that the number of station Status update displays would likely need to be doubled or tripled. Similarly, additional displays would allow individual DLR & Tram lines to also be broken out and similarly displayed when there are disruptions, greatly aiding passengers. Nonetheless, more lines on each display may well mean the size of all the others is reduced, making the space available for legible text to describe disruption even smaller. Whilst TfL can install larger screens in time, mobile phone screen space is quite limited, and any solution needs to work seamlessly at both scales. The line names and colours are only part of the solution, the whole user interface design has to be done well.
This is a screenshot of the TfL Status update – would you be able to guess from this that Sydenham – West Croydon is closed, with a reduced service level on the core ELL section?

The zoom function on the TfL website's Tube disruption map is often quite slow and sometimes unresponsive, but with numerous zooming clicks, eventually this appears: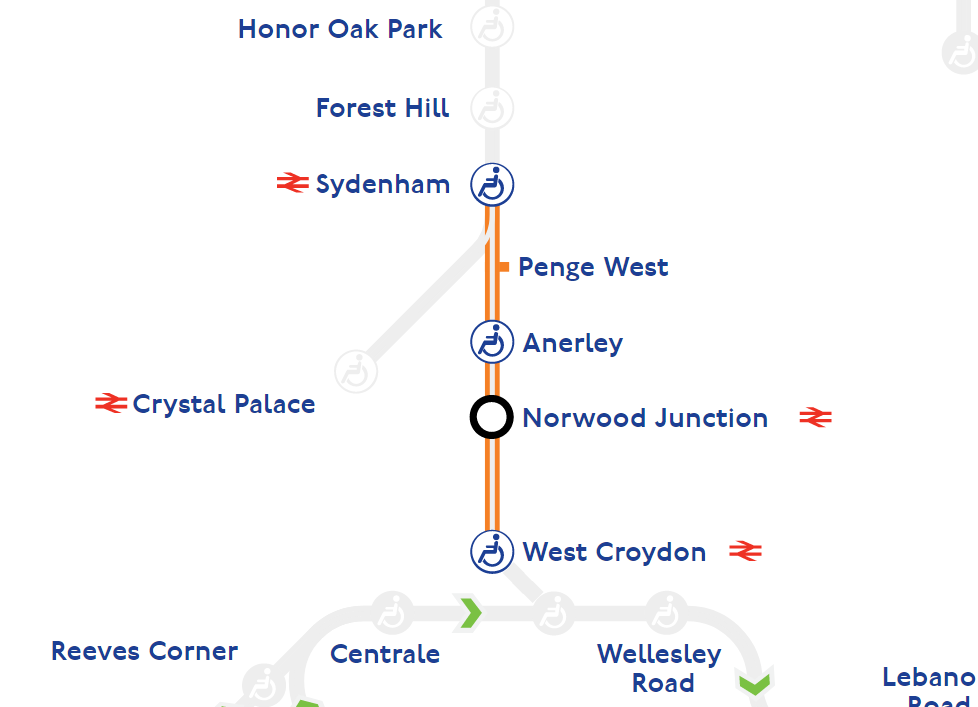 Unfortunately, this requires too many clicks and user actions to see this detail. This information needs to be quicker and more readily accessible. Furthermore, ideally passengers would be informed on alternate services, such as Southern or SouthEastern trains, and buses.
In service disruptions, there is key difference between most of the Underground and most of the Overground networks. An example: if there be a problem on the whole or the end of a District branch, the core service level can pretty much be maintained by increasing services on other branches, and some services terminated short. Same for most other Underground lines. However, the situation is different for the East London line and the Lea Valley services out of Liverpool Street, in that core section service levels and passenger capacity are immediately reduced as turnback opportunities are non-existent or minimal.
In another example, if there be a service disruption on the East London line Clapham Junction / New Cross / Crystal Palace branch, this means immediate loss of 4tph in the core. Loss of the Sydenham – West Croydon trains can be just about handled by Crystal Palace trains, or about 6tph if turning back at New Cross Gate. So how best can reduction of the East London line's core service (eg between Whitechapel and Canada Water be communicated? "No Clapham Junction, and reduced core services"? Or a lighter orange to indicate reduced service on the core?
This is an interesting user information presentation challenge. We do not know if or how much TfL is looking into this. But presenting such disruption information effectively and succinctly, an ideally with alternate routing, will be a next level improvement.
Furthermore, many mainline stations could also do with additional displays – one display at a 12-car long train platform really isn't good enough, yet this appears to be quite common. In the long term, the solution should be to ensure that screens (at stations and on mobiles) can display the information that TfL and train companies want to display.
TfL revenue is as precarious as ever
This Overground navigational clarification could be seen as part of a strategy, along with the SuperLoop orbital bus routes recently announced, to provide additional awareness of public transport options when the Ultra Low Emission Zone (ULEZ) is expanded later this year. Already in place in Central London, the ULEZ will be implemented across all London boroughs from 29 August 2023.
Implementing individual Overground line names and colours may not increase revenue in the short term – but it will improve Overground navigation, decrease confusion, declutter portions of the Tube Map, and prevent some passengers from missing trains.
Is it worth the cost?
£4m sounds like a lot of money for changing line names. Some of this will be for the consultation on the name changes,but most is to update or replace every sign on the Overground network, as well as signage in every station connecting to the Overground. It would also include replacing Tube and strip maps in stations and on trains and publicity spend. Jago Hazzard's video puts these costs into perspective. It all adds up.
We have shewn a couple different TfL Overground line mock-ups from 2015, so considerable work has already been done on this initiative. The £4m just announced appears to be the final push. Nevertheless, Overground line breakout is a long overdue improvement and should see a corresponding increase in ridership. The TfL 2023-24 Budget is now approved, so nothing is preventing this going ahead now.
Ultimately, however, the new Overground line names should be what passengers themselves call the lines, not what some politician wants them to be called.
A few parts of this article on the 2015 TfL mock-ups were published on 21 May 2021 by CLondoner92 at his blog.
As Mayor Khan stated that the new Overground lines will be named, not lettered or numbered, we shall not brook any numbering or lettering suggestions in the comments.