When discussing Crossrail, commenters have often speculated on the ultimate demise of Heathrow Express – the private train operating company that runs a non-stop express service between Paddington and Heathrow. This speculation is generally predicated on the belief that once the Elizabeth line runs to Heathrow no-one in their right mind would bother with Heathrow Express. Such speculation was generally that – merely speculation – but now facts and whispers are beginning to emerge, suggesting that maybe Heathrow Express won't exist by the end of the decade. Here we provide some of the reasons that cast doubt upon the continuing existence of Heathrow Express.
The Crossrail Challenger
It was always realised that Crossrail was going to be a challenge for Heathrow Express. The obvious challenge was having a rival rail service between Heathrow and Paddington whereas previously the main public-transport-based rival was the much slower (but also much cheaper) Piccadilly line. A further significant difference is that Heathrow Express was planned and built after the Piccadilly line, so Piccadilly line use was factored into the original Heathrow Express business plan. Whilst talk of Crossrail had been around for decades, it was only in the 21st century that it was starting to look like it would become a reality.
It is clear (most notably by a recent Telegraph article that is unfortunately behind a paywall) that many including ordinary travellers are beginning to question either how or if Heathrow Express can survive with competition from a cheaper alternative that takes you to the heart of central London.
Initially, it would have been hard to see how the original Crossrail plans were that much of a threat to Heathrow Express. Crossrail to Heathrow would be limited to 4tph, all of which would terminate at Terminal 4 which is considerably less busy than Terminal 5. Given that there is only a single track between Terminals 2 & 3 station and Terminal 4 station, a 15-minute interval was the maximum that could be realistically achieved.
These four Crossrail trains per hour between Heathrow and Paddington would, as originally proposed, also call at Terminals 2&3 but, in addition, had to also serve significant intermediate stations (Hayes & Harlington, Southall, and Ealing Broadway), a service at West Ealing for completeness and provide the only service to Hanwell and Acton Main Line stations. It was apparent that the Crossrail service serving Heathrow would take considerably longer than the Heathrow Express alternative.
Additional comfort for Heathrow Express could be obtained from the fact that prior to Crossrail there was already a stopping service called Heathrow Connect between Paddington and Heathrow. It wasn't particularly busy and often only consisted of 5-car trains. Crossrail would be taking over this service. Although the frequency would be doubled, Heathrow Express could cling onto the belief that replacing Heathrow Connect with Crossrail trains to and from central London would make little difference.
Problems begin for Heathrow Express
Things took a turn for the worse for Heathrow Express when plans for HS2 came along. The building of HS2 required Heathrow Express to vacate its storage and maintenance depot at Old Oak Common. They lost their conveniently located base for their service. Things initially didn't seem too bad because derelict railway land had been identified at Langley as a suitable replacement. Unfortunately, the local council had plans to use that for housing and they were determined to resist any attempt to build a railway depot there.
Eventually Heathrow Express decided to replace their original Class 332 rolling stock early after about 22 years of life and replace it with almost new class 387 trains suitably modified for airport work. At the same time, they chose to contract the maintenance out to GWR who had spare capacity at their Reading Train Depot. Reading was hardly an ideal location because of the amount of dead mileage that would be needed but it was probably the best option available. The modified Class 387 trains started to be introduced on Heathrow Express from December 2020.
It seems that the government had exerted considerable pressure or encouragement to ensure the plan to sub-contract the train provision to GWR and ensure a long-term contract (around 10 years) was signed. In what was possibly a rare example of good forward planning, maybe the Department of Transport wanted to ensure the survival of Heathrow Express in the short term, but was anxious that it could be dismantled without difficulty should it be desirable for it to cease operations. As a result, today Heathrow Express employs very few staff. The drivers are actually GWR drivers and one suspects that the pushy sales staff are largely on short term contracts where pay is strongly related to ticket sales achieved.
An attempt to reinvent
At around the time when Heathrow Express arranged to lease its new trains, the company made an announcement concerning its future plans. In a positive-sounding proposal they announced their intention of bidding to run the future service in the proposed tunnels providing western access to Heathrow. This would have created a semi-fast service from Paddington to Reading via Heathrow and be specifically intended for passengers to and from Heathrow Airport. Whilst intended as a positive statement, it was viewed by many in the rail industry as a sign of desperation.
Things had only got worse for Heathrow Express. In particular, an attempt by their parent company to increase access charges for Crossrail using the rail tunnels to Heathrow (owned by the airport) was turned down by the Office for Road and Rail (ORR) regulator. What was regarded by many in the rail industry as a cheeky attempt to increase revenue with no effort expended appeared to be something that Heathrow Airport Holdings Ltd really believed would be approved.
At the time, their main regulator, the Civil Aviation Authority (CAA), tended to be much more sympathetic to the needs of the airline industry so maybe Heathrow Airport thought that the rail regulator would be similarly accommodating. Heathrow Express may have previously thought they were in a safe financial situation but by now there was no doubt they were vulnerable.
Crossrail to Terminal 5
Then, in mid-2017, shortly before Crossrail was originally due to open, Howard Smith (Chief Operating Officer for the Elizabeth line) managed to arrange for Crossrail to serve Terminal 5 with two trains per hour (tph), meaning there would be an additional 2tph to Terminal 2&3 and Terminal 5 would be added to the Crossrail map. This was a real pull-a-rabbit-out-of-a-hat moment, although the hints were there but not spotted as Howard Smith, in talks already given, had pointed out the absurdity of Crossrail not serving Terminal 5.
Hopes dashed
Worse was to come for Heathrow Express when the proposed western approach to Heathrow seemed to get forgotten once Covid took hold. It seemed that current Heathrow Express service was under threat from more significant competition from the Elizabeth line and their long-term plan to find an alternative market was just not going to happen.
Hope of a rosy future for Heathrow Express now seemed to depend on a significant post-Covid recovery in airline travel and a reluctance for passengers to switch to the Elizabeth line.
Heathrow Express were fortunate that airline passenger recovery was unexpectedly rapid once the worst of Covid was over. Even better for them, British Airways were prioritising using Heathrow rather than Gatwick so that, although passenger numbers overall may be down, passenger numbers at Heathrow had almost totally recovered.
Any hope that Heathrow Express would get lucky twice with a reluctance of passengers to use the Elizabeth line instead of Heathrow Express post-Covid were quickly dashed with the opening of the central section of the Elizabeth line in May 2022. Anecdotally, the hordes of passengers with luggage alighting onto the Crossrail platforms at Paddington main line station and then snaking their way to Paddington Crossrail station entrance showed that there was most definitely significant demand for Elizabeth line services from Heathrow to Central London in preference to Heathrow Express. Of course, this does not necessarily mean that many of the Elizabeth line passengers would have otherwise used Heathrow Express but it is hard not to come to this conclusion.
Now that through Elizabeth line services operate to Central London from Heathrow the demand is even more noticeable with Heathrow Express appearing to be very lightly loaded. From casual observation, it also appears to be the case that far more people use Heathrow Express in the Heathrow to Paddington direction than do so in the other direction. Many would say that is because first time travellers from abroad are not aware of the alternative but once in London they have got wise to the Elizabeth line and don't bother with Heathrow Express for the return journey.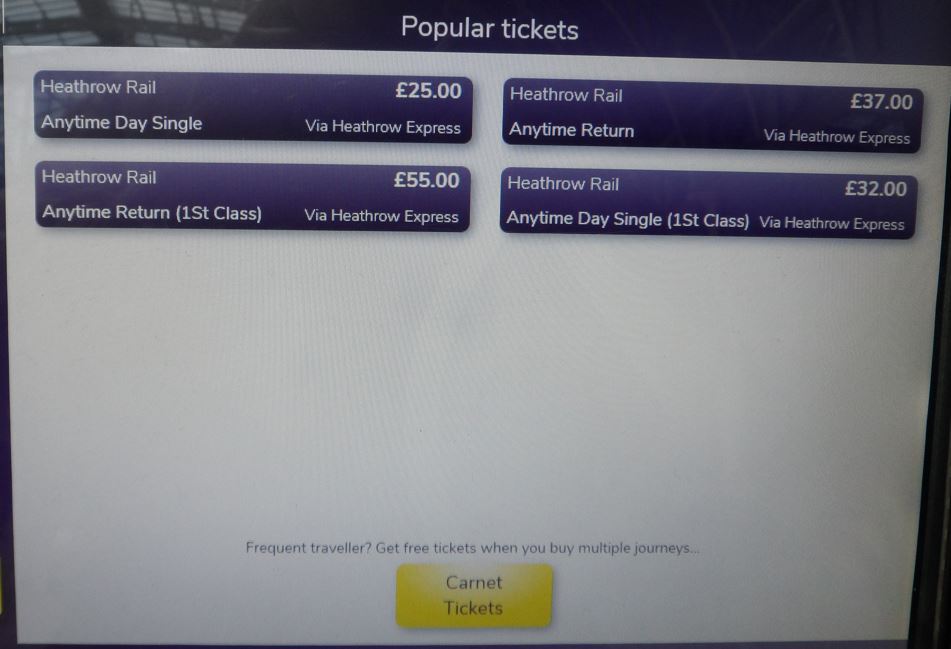 Despite poor, or at least inconsistent, loadings, it has to be taken into account that, in general, Heathrow Express fares are very expensive so it would not require a high load factor to be profitable – or at least have fares exceeding operating costs (which isn't quite the same thing).
Definitive statistics are hard to come by. We know that Elizabeth line receipts are significantly higher than post-Covid predictions and there is a lot of feedback to suggest loadings on Heathrow services are quite high. More difficult is to determine how Heathrow Express is faring as they are a private company and, obviously, their passenger loadings and fare revenue is a commercially sensitive secret.
Bear in mind this popularity is present even with the temporary delay of up to seven minutes when Elizabeth line trains have to wait on their inward journey to Paddington in order to match up with the previously existing timetable in the central operating section. This will disappear in May 2023 when the 'final' Crossrail timetable will be implemented.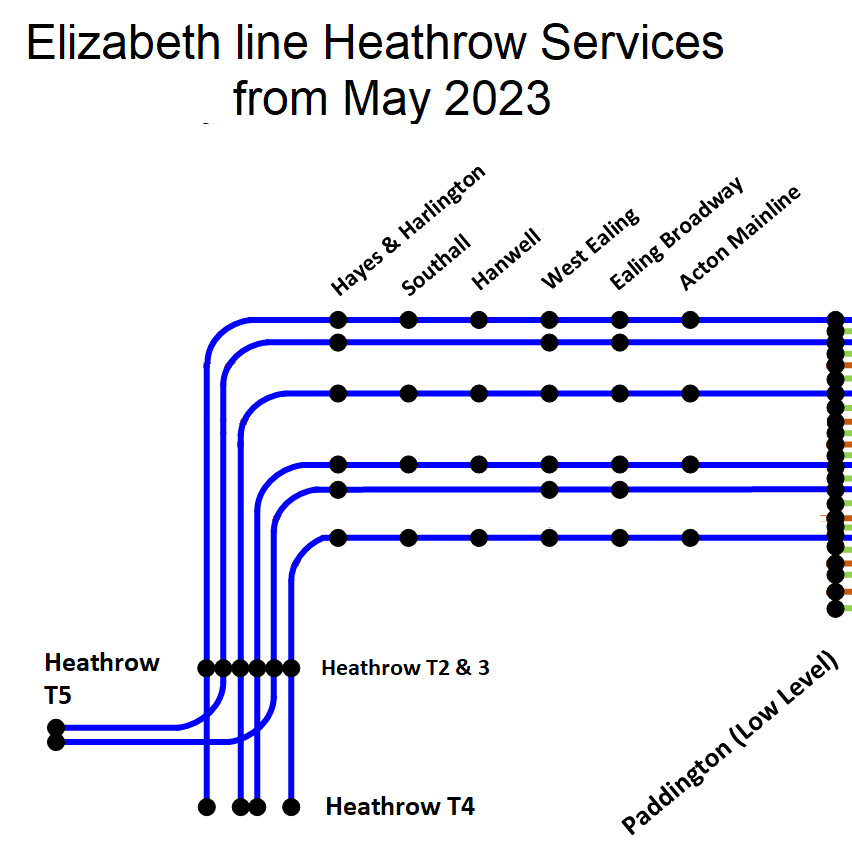 In fact, the May 2023 timetable leads to an even faster service as Heathrow trains from Terminal 5 will only call at Heathrow Terminals 2&3, Hayes & Harlington, West Ealing, and Ealing Broadway before arriving at Paddington. It has been possible to omit the busy Southall station as well as the lesser-used Hanwell and Acton Main Line stations. This means that the Elizabeth line would take 33 minutes from Terminal 5 to Paddington (Low Level) as opposed to 20 minutes to the main station by Heathrow Express.
On the face of it, if wishing to continue one's journey on the Elizabeth line there is a noticeable speed advantage in taking Heathrow Express to Paddington and changing there. But another factor is that it can take a long time to exit through the ticket barriers in the main line station. This is because there are only five gates dedicated to Heathrow Express services. With two being reserved for boarding passengers that leaves just three gates (admittedly wide ones) for all the passengers with their luggage to exit the platform. On top of that, most of them are unfamiliar with the gates so take much longer than a seasoned commuter or even an occasional rail traveller in Great Britain. It is not an exaggeration to say that if you are at the wrong end the train it could take up to nine minutes to leave the platform.
Whilst we would argue that the long-term prognosis for Heathrow Express is not promising, the short-term outlook seems to be one of continuing much as today. Our belief is that the crunch will start to come in 2028 and life will be difficult for Heathrow Express from around the early 2030s if they are still in business then.
Crossrail to 4tph to Terminal 5?
Before 2028, a possible further problem for Heathrow Express may well manifest itself in the mid-2020s. When it was announced that Crossrail would serve Terminal 5 with two trains per hour, it was also announced that the DfT, TfL, and Network Rail were also "conducting a joint feasibility study into increasing the frequency of the Elizabeth line service to 8 trains an hour by the mid-2020s". Note the apparent absence of any input from Heathrow Express in this decision making.
Should TfL be able to run 4tph to Terminal 5 as well as 4tph to Terminal 4 then it would appear that the Elizabeth line would be in a very strong position to tempt passengers away from Heathrow Express. Terminal 4 station is not served by Heathrow Express, from Terminal 5 there would be 4tph offered by both services and at the main Heathrow station, Terminals 2&3, the Elizabeth line will offer 8tph while Heathrow Express will only offer 4tph.
What could kill Heathrow Express
There are really only two possible reasons why Heathrow Express will not run a service. The first reason is if they do not have the track access necessary to run the service. The second reason is just as fundamental: Heathrow Express will exist as long as it can make a profit. Of course, a true sustained profit must take in account the eventual need to periodically refurbish and ultimately replace rolling stock. If provision is not made for this then an apparent profit may well be illusory in the long term.
As many have pointed out, the day may well come when Heathrow Airport Holdings Ltd realise that they would be better off not running Heathrow Express so that TfL can use the slots and Heathrow gets increased revenue from track access charges for almost no effort.
Heathrow Express has guaranteed track access on the Great Western Main Line to Paddington until 2028. In that year Network Rail will carry out a reassessment of the Great Western Main Line capacity use.
Heathrow Express also has its long-term contract with GWR to maintain their rolling stock until 2028 when it would be up for renegotiation. This makes 2028 a good time to exit the rail market if a satisfactory renewal could not be made. It also gives an opportunity to negotiate a short-term contract if it feels that its long-term future is in doubt.
You can be fairly sure that in any reassessment of track access GWR will argue that Heathrow Express on the main lines (rather than the relief lines) between Airport Junction and Paddington is not a good use of the limited capacity. Therefore, replacing Heathrow Express services with enhanced Elizabeth line services on the relief lines would potentially benefit millions of GWR rail travellers, as their service across the entire GWR region will be more reliable and can be planned without having to take Heathrow Express trains into account.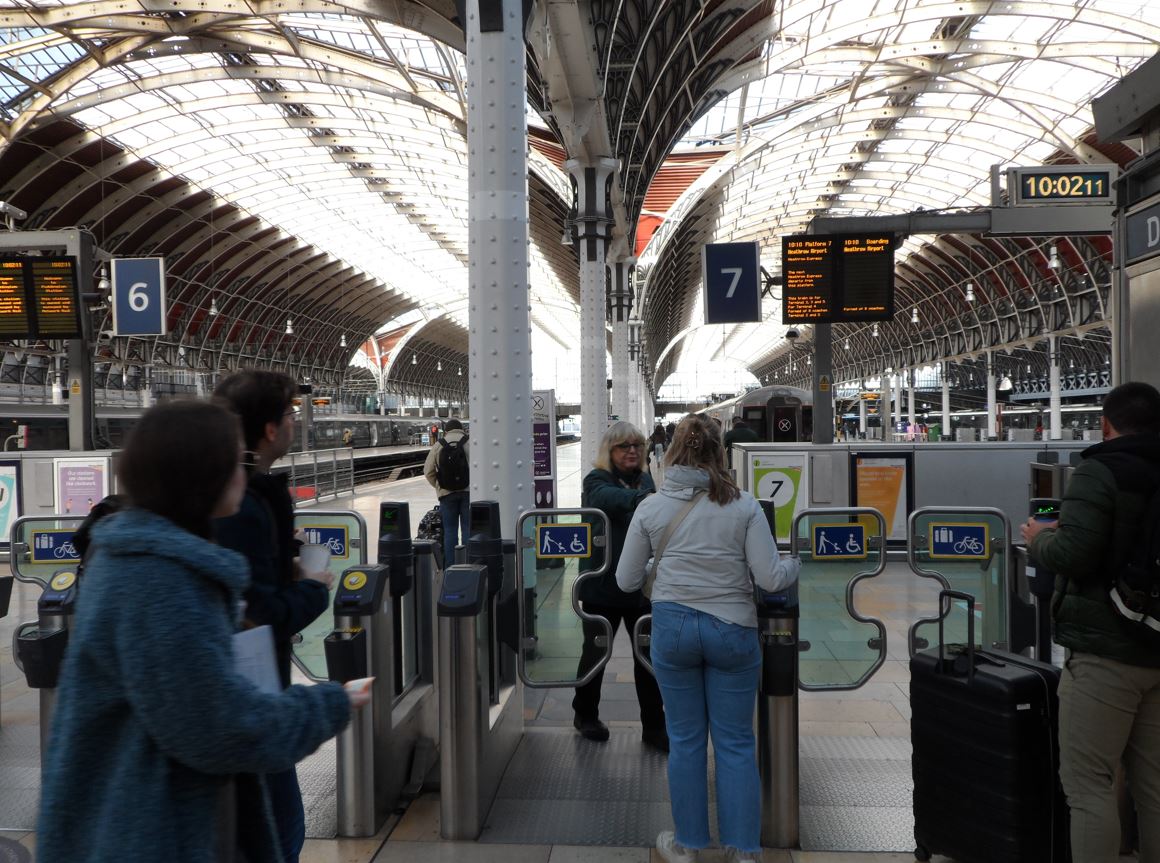 Possibly of more interest to GWR is being able to use platforms 6 & 7 at Paddington which are currently dedicated to Heathrow Express. It is probably availability of platforms at Paddington rather than capacity on the main (fast) lines that limits the number of trains to Paddington that GWR can run.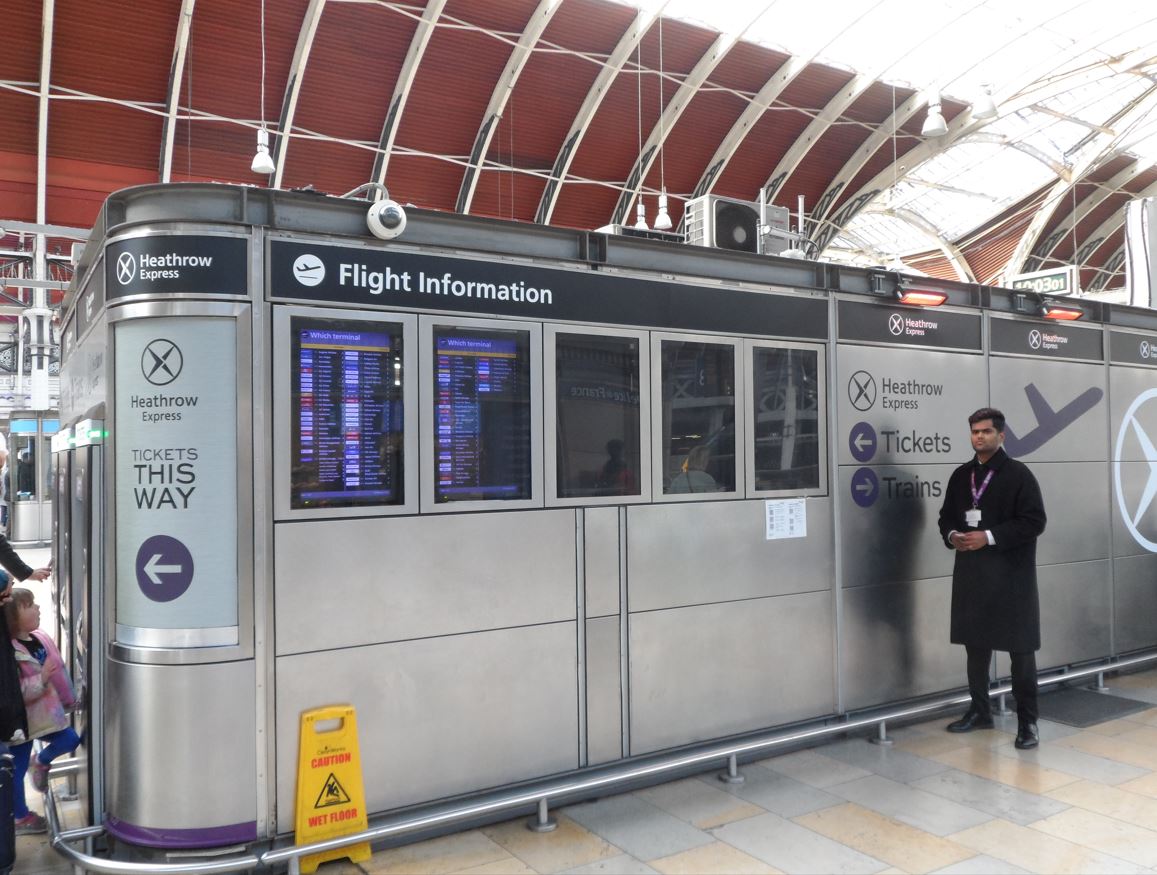 A further factor that may emerge is that if traffic returns GWR may wish to reassign their Intercity Express Trains for the longer routes with fewer intermediate stops and cover the intermediate distance routes with additional Class 387 trains – that would become available should Heathrow Express decide not to continue operating.
TfL would probably argue that Heathrow is best served by one company running as frequent a service as possible and it would be impractical to run a non-stop service between Paddington and Heathrow on the relief lines. Already there are rumours that TfL is thinking in terms of at least 10tph to Heathrow if Heathrow Express no longer runs with at least the current level of service to Maidenhead and Reading continuing.
The possible Old Oak Common threat
If Heathrow Express survives beyond 2028 then the next challenge will be the opening of Old Oak Common station on HS2. When this station is opened it is intended that all trains to and from Paddington will stop there. Quite what the consequences of this would be is unclear.
From a logical, rational point of view opening of Old Oak Common station could benefit Heathrow Express. First, there would be a potential new market of HS2 travellers to and from the Birmingham and the north of England. Secondly, logic suggests it would be better for Heathrow Express customers who want to continue their journey on the Elizabeth line.
All Elizabeth line services that currently terminate at Paddington Low Level will be extended to Old Oak Common. This would give an Elizabeth line service of 24tph in the peak period (possibly more) and probably by then 20tph off-peak at that station. Early modelling shows that interchange time between Heathrow Express would be short, unlike at Paddington currently, and for travellers from Heathrow there would be the advantage of boarding Elizabeth line trains at the terminus and almost certainly getting a seat.
The problem with the logical reasoning is that the perception may be otherwise. Passengers who want to continue by taxi at Paddington will have a slower journey than before even though the journey time difference between Crossrail and Heathrow will probably be the same. Nevertheless, the service will lose some of its attraction.
The journey will be about three miles shorter between Old Oak Common and Heathrow compared to Paddington and Heathrow so Heathrow Express will be seen as less good value for money (assuming the same fare is charged as to or from Paddington). Heathrow Express will almost certainly have to pay to stop at Old Oak Common even though they will have no choice in doing so.

There is quite probably a disadvantage to Heathrow Express in that it is likely that a Crossrail train from Old Oak Common station could reach Paddington Low Level station faster than a Heathrow Express train could reach Paddington High Level station. This would be due to the Crossrail train being run fully automatically at optimal speed whereas the Heathrow Express train would probably have to travel very slowly to traverse the station throat at Paddington.
It is hard to predict when Old Oak Common station will open. Modern Railways (March 2023) suggests that HS2 will run from Birmingham to Old Oak Common "towards the end of its current opening window of 2029-2033 but the link to London at Euston maybe as much as five years behind it". The opening to Euston is largely irrelevant to us as it is unlikely local journeys between Old Oak Common and Euston will be permitted. What is more pertinent is how HS2 travellers continue their journey to London. It is hard to see many choosing Heathrow Express even if that option were available – which it probably won't be.
More Elizabeth line stock needed
A further complication with the idea that Heathrow Express could be no more is that it could potentially require more Elizabeth line stock to replace the lost services. Given the complexity of the signalling it needs to interface with, one would have thought that only Bombardier (who provided the original stock) and Siemens (who provided the critical signalling in the central section) would be willing to tender although things turn out to be more complicated than that with manufacturers sub-contracting the signalling interface.
A further problem could be that the number of trains involved mean a high price per trainset. Precedent here has been set by the Jubilee and Northern line Additional Trains (JNAT) where a small order was believed to have led to a ridiculously high quote when the cost per train was considered. If TfL were to place a future order in then it would make sense to maximise the order. For example, if the demand were there, TfL could maximise Elizabeth line services based on the signalling capacity that would be available towards the end of the decade.
An alternative, slightly less satisfactory, solution would be to adjust the current service pattern to free up extra trains. This would only be necessary in the peak period when utilisation is at a maximum. Options are limited but there are possibilities on the line out to Shenfield. Not every train needs to go out as far as Shenfield and the service could be reduced east of Gidea Park where some trains could terminate. Note that it is not necessary for the few Gidea Park – Liverpool St (main line) trains that run in the peak (now and continuing in the new May 2023 timetable) to be composed of Crossrail Class 345 stock. TfL could even run non-Crossrail stock trains between Liverpool Street and Shenfield in the peaks and, at the same time, terminate many Crossrail Class 345 trains at Gidea Park where auto-reverse could be implemented in the siding.
The future can never be certain but it seems likely that after the 'final' May 2023 timetable, the Elizabeth line will continue improve and probably enhance the service provided to Heathrow Airport travellers. Whether Heathrow Express will also provide a service is hard to say for sure but we think not.
Many thanks to the LR team, especially ngh, for their contributions and insights.