Well, this year it is really a case of mark your own homework. However, the answers sent in were invaluable in providing alternative correct answers and giving a feel for which questions were actually found to be difficult. And, as always, there are questions which, in retrospect, could have been better worded – or even omitted.
Here is the 2022 Christmas Quiz post, for reference.
Question 1
This question was about inconsistencies in the 2022 Tube map that featured the Elizabeth line.
A. What we were looking for is that the River Thames is shown as south of the Elizabeth line at the western end whereas it is in fact north of the Elizabeth line west of Maidenhead. Perhaps the phrase 'western end' could have been more explicit. Many of you pointed out other inconsistencies including, but not limited to, topological inaccuracies around Ealing and Acton. In view of the lack of clarity posed by the question award yourself a point for any topological error west of Paddington.
B. Most of you realised that Belvedere and Erith stations were omitted from the tube map because they are only served by South-Eastern Trains and South-Eastern Trains does not appear on the tube map although Thameslink does.
This fact that Thameslink trains do not call at Belvedere or Erith would appear to be slightly illogical as Slade Green (next station along), with almost identical usage, is served by Thameslink. The reason for this may well be that Slade Green is a junction station with trains going eastward to either Dartford or Crayford.
Question 2
The Elizabeth line announcements that were made up are numbers 1 and 6 – the first and the last one. Three of the announcements were witnessed by Diamond Geezer (see here) and I personally heard the announcement from "Farringdon TfL Rail control room" despite the fact that 'TfL Rail' never ran trains through Farringdon.
'Mind the Gap' is clearly unnecessary but has never been announced on stations with platform edge doors (unless you know otherwise). In general, "Mind The Gap" is restricted to platforms with a larger than usual gap so that overuse does not cause passengers to 'filter out' the message. Some of the announcements show the absurdity created when announcements are made throughout the station when clearly not applicable to various parts of the station.
The message about the need for some travellers to exit and re-enter the station was probably the one useful announcement that should have been made but TfL initially kept very quiet about this until finally installing intermediate validators many months later when they put up a suitable poster.
Question 3
On the day of the Queen's funeral the overhead wires came down west of Paddington meaning the Elizabeth line was suspended west of Paddington and therefore preventing many people from the West Country viewing the cortege in London and also preventing others from travelling west to Windsor to view it there.
Question 4
This question asked milestone that was a significant advance in expanding TfL-run rail services took place on the same day as the Elizabeth line opening. It appears that only timbeau got the correct intended answer which was the first train reached Barking Riverside station. It was not in passenger service, obviously. This lack of correct answers was not entirely surprising as the news was rather overshadowed by the Elizabeth line opening and even the railway press seemed to overlook the event. None of the alternative answers offered really fitted the category of expanding TfL-run rail services.
Question 5
This question was all about Vivarail's trainsets which are rebuilt London Underground 'D' stock trains.
On the Isle of Wight, Ryde Pier Head station is currently closed so no former Underground trains are currently serving this station.
This is because the pier is being reconstructed.
The line between Bedford and Bletchley has no trains running.
The reason given for this is that Vivarail has gone into administration.
Because of Vivarail going into administration it seems extremely unlikely that Vivarail's proposed battery train will ever be trialled between West Ealing and Greenford.
It does seem very strange that rail services continue to run with Vivarail trains on the Isle of Wight yet have been discontinued between Bedford and Bletchley. An explanation given is that the Bedford-Bletchley trains (the Marston Vale line) trains were maintained by Vivarail whereas on the Isle of Wight the trains were maintained in-house. However, the collapse of Carillion the construction company and other bankruptcies have shown that arrangements can be made to keep vital staff employed if there is the willingness to do so. Cynics suggest that the DfT is using the opportunity to save money by replacing trains by buses though the savings would not be as great as may be expected as the line is still open for freight.
Question 6
The picture, as most people guessed, knew or discovered, is of Erith Pier.
The second part of the question asking what (land) transport is featured here according to its title is one of those questions that should probably not have been asked.
The intended answer was 'tramway' as there were various online references to people catching the Erith Tramway in order to board the pleasure ships departing from the pier but, in retrospect, this appears to refer to the trams running through the town of Erith and not specifically onto the pier. So, the best answer that can be given to the question, identified by many, is coaling trucks. These were used to assist in unloading coal and bring it ashore.
The best online description of the history of this railway line that appears to be available is the third paragraph of this web page.
Question 7
The question asked about the flaw in the floor. There were only a couple of correct answers. Ilford station on the Elizabeth line was being rebuilt when it was realised, rather late on during construction, that the existing substandard concrete floor of the ticket office needed to be addressed. As a consequence, Ilford station was the last station on the Elizabeth line to be upgraded and work was completed significantly later than any other station.
Question 8
The mode of transport within Greater London that connects Three Bridges with Norwood is a canal. Specifically, the Grand Union Canal. Three Bridges (aka Windmill Bridge) is a location where Windmill Lane in West London passes over the Grand Union Canal which in turn passes over the Brentford branch (currently freight only). See (amongst others) a video about the Brentford branch by Geoff Marshall about one minute in or a similar video by Jago Hazzard 4:20 minutes in.
The intended answer to identify the misnomer was that it is in fact two bridges with a cutting below. However, several people pointed out that one of the 'bridges' is, in fact, a viaduct. So, either explanation will get you the point but no bonus point if you provided both answers.
Question 9
There have been three Secretaries of State for Transport in 2022. You weren't required to name them but some of you did. They were Grant Shapps (to 6 September), Anne-Marie Trevelyan (6 September – 25 October), and Mark Harper (from 25 October).
This is probably a record number in a single year, even though tenures of Transport Secretaries are particularly notorious for being of a short duration. It is often regarded as a thankless ministerial posting and it is believed that Grant Shapps was pleased to leave and subsequently be offered an alternative ministerial post only a few weeks later.
Question 10
The new London Museum promises that Thameslink trains will be visible through a window in the wall in the new museum.
As reported by the Evening Standard.
Question 11
In terms of badly set questions in a London Reconnections Christmas Quiz, this was probably the worst of all time. The question referred to a "Thames Bridge" but should have really referred to a bridge over or close to the River Thames. If this quiz was being seriously marked then we would have had to scrub this question.
The bridge in question is intended to span the South Dock in Docklands but could hardly be called a "Thames Bridge". Apologies to all who were misled. Please regard it as an unfair question that will be disregarded.
Question 12
The missing words were barrel, cabin, road and stepping. This gives biscuit barrel/escalator barrel, signal cabin/log cabin, bang road/ high road and stepping back/stepping stones. We were surprised how many people got all these terms.
Question 13
It didn't require much imagination to guess that the station in question was NOT a GWR station though probably was once upon a time when GWR referred to the original Great Western Railway. It is in fact Hanwell on the Elizabeth line and has been lovingly restored. Rather strangely, the supposedly disabled-friendly toilet is awkward to use due the proximity of the washbasin and being needlessly crammed in one corner. The rest of the room is enormous and just empty space.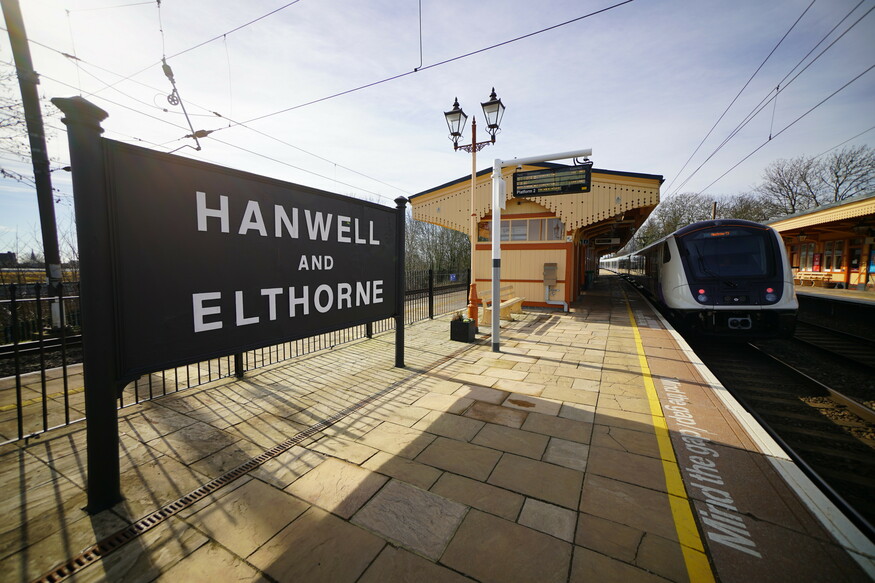 Not in any way relevant to the answer but there is a rather good Londonist Article explaining why the station was originally called Hanwell and Elthorne.